Happy Thanksgiving
We would like to wish all members and their families a very Happy Thanksgiving! Hopefully you are able to spend time with your family and friends today. For those of you who are performing your duties today, please be safe and thank you for your service!
— President Tom Mungeer and the Board of Directors
PBA Online Store Cyber Monday Deal
When you start your holiday shopping, don't forget about the PBA's new online store. On Cyber Monday (December 2), all orders placed online from midnight – 11:59 p.m. will receive FREE SHIPPING!
Also, if you place an order for youth/toddler apparel or stuffed animals you will receive a FREE activity book. The book features coloring pages, word searches and crossword puzzles. The offer for the free activity book is an ongoing promotion and is not limited to Cyber Monday purchases.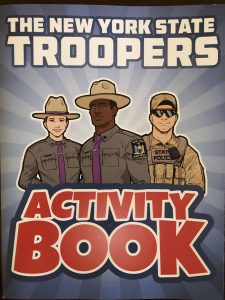 Activity Book
Our online store can be found by clicking on the "Online Store" link on the PBA website at www.nystpba.org, or by following this link https://nystapparel.com/ or on Instagram at nystrooperapparel. Orders can also be emailed to nystrooperapparel@nystpba.org or by calling the PBA office at 518-462-7448 ext. 113.