What is the Police Surgeons Group?
The New York State Troopers Police Benevolent Association is extending an invitation to all eligible physicians to join our newly expanded fraternal organization which represents over 6,000 active and retired, uniformed New York State Troopers.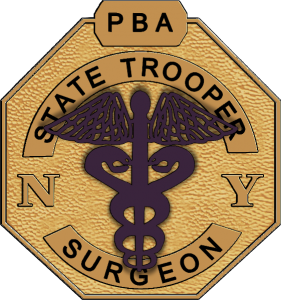 Who We Are:
The New York State Police Benevolent Association, which represents active and retired members of the New York State Police, has always had a close relationship with members of the medical community throughout the State of New York. The PBA Surgeons Group offers honorary membership into the Association for Surgeons who share the interests and desires of our vast membership.
Our Mission:
The Police Benevolent Association of the New York State Troopers, Inc. is dedicated to improving the terms and conditions of employment of our members. The PBA is also dedicated to improving our members well being and overall access to outstanding medical care. The PBA advocates for the rights of our members and takes action in a variety of ways. The PBA is the official voice of the membership.
Click here to view the web site of the PBA Surgeons Group